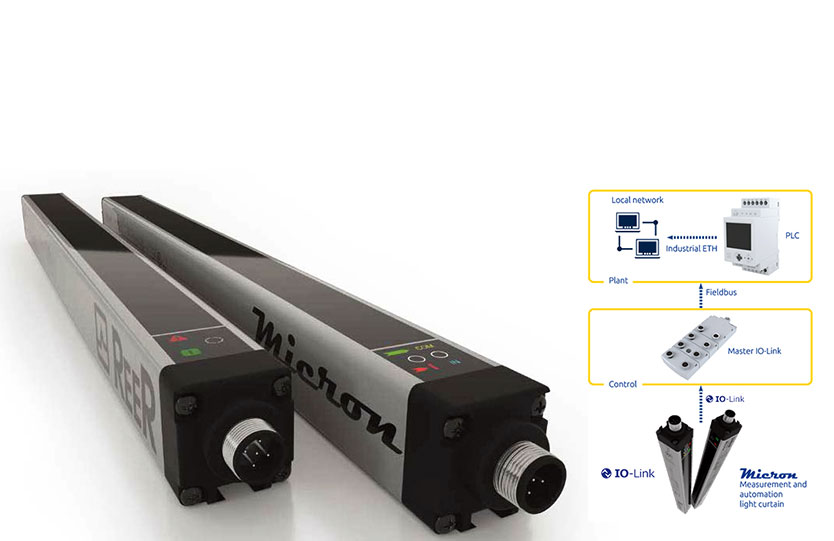 Reer Micron measuring light curtains are ideal for applications where it is necessary to accurately detect, measure, and recognize objects. Micron provides real time information to a PLC or PC. For example, it detects the presence or absence of objects, perform a count, detect a position, detect a shape or a profile and measure dimensions.
What is IO-Link?
IO-Link is a point-to-point serial communication protocol. This protocol (open standard based) allows the bi-directional exchange of data from sensors and the IO-Link Master.
The IO-Link master can transmit the received data over fieldbuses, networks or different buses, making the data accessible for other devices (i.e. PLC or interfaces).
Each IO-Link sensor carries an IODD file (IO Device Description) containing device information and features.
Configurable Parameters via the IO-Link Master
Syncro type
Bearing
Scan cycles
Data transmission mode
Teach-in mode
Teach-in tolerance
Operating temperature: -10 … +55 °C
Power supply: 24 V DC
Max. range: 10 m
Max. length of the connection cables: 20 m (liitäntä valoverhon ja IO-Link Masterin välillä)
Height of controlled area: 150 … 3000 mm
Beam spacing: 10, 30

For more information
Tuomas Hietaniemi
tuomas.hietaniemi@sahkolehto.fi